WEC Rangers
Jesse Chakrin
Director, UC Merced Wilderness Education Center
Director, Yosemite WildLink Bridge Program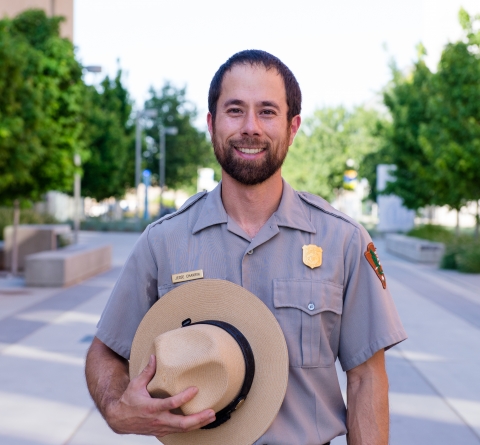 Jesse Chakrin is the director of the UC Merced Wilderness Education Center and the Yosemite WildLink Bridge program. During the last few years, Jesse also has been involved with national committees working to address the issues of leadership development, relevancy, and succession planning for the Park Service. He is currently working with a consortium of six universities that are developing graduate-level education to help the next generation of National Park leaders address the challenges of the 21st Century.
Jesse began his Park Service career in 1999 at Denali National Park working as a wilderness ranger. While there, he developed his ranger skills and fostered his love of parks and the great outdoors. In 2004, he moved to Yosemite National Park to continue his development as a wilderness ranger and pursue his newfound passion for rock climbing. He became involved in SAR and traditional tools operations and began assisting with educational endeavors. In 2006, Jesse developed, funded and implemented the Yosemite WildLink Bridge Program, and in 2007, he became the Wilderness Education Center's first director.
During his years as a seasonal park ranger, Jesse spent many winters traveling and exploring the world. He has traveled extensively in Mexico, Central America, South America, Europe and Asia. His travels have helped broaden his worldview and foster a love of different cultures and people.
Jesse received a bachelor's degree in psychology from the University of Michigan and a graduate certificate from the Leadership for Public Lands and Cultural Heritage Program.
Jessica Rivas
Lead Ranger at UC Merced Wilderness Education Center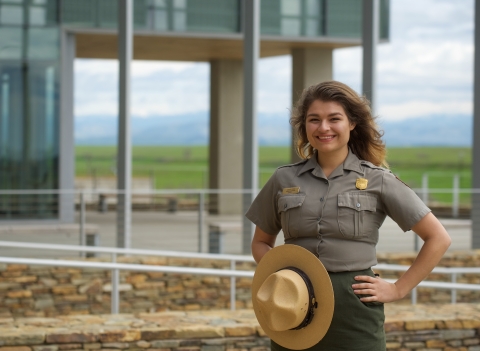 Hi all! My name is Jessica Rivas, but I typically go by Jess. I'm a first-generation college student and a first-generation park ranger. I'm majoring in Cognitive Science with a minor in Anthropology. My introduction to and immersion in wilderness came in 2012 when I was hired to work as a ranger at the UCM Wilderness Center. Wild places have offered me a variety of things. I've seen the Milky Way for the first time and cried as I watched others experience it for their first time. I've walked through a living giant Sequoia and have had the opportunity to lead others through these marvels. I've backpacked, hiked, rock climbed, snowboarded, and so much more. The privilege to do these things was granted to me by the people who believed that I deserved them, and now I have the opportunity to pay this luxury forward. It is truly life changing to go to a place that has changed so much and yet so little and know that someone a long time ago cared enough about us to make sure we could experience it. At least that's how I feel when I'm leading a trip to the park or picking up some trash on the trail. For those that have never been to a park, and for those of you who visit when you can, I care about you. I want you to experience these places and feel the love and belonging that I've felt here. I hope, someday, you can. Come visit us at the WEC, I'd love to hear about your experiences in wild places and answer any questions you might have.
Robert Martin
UC Merced Wilderness Education Center Ranger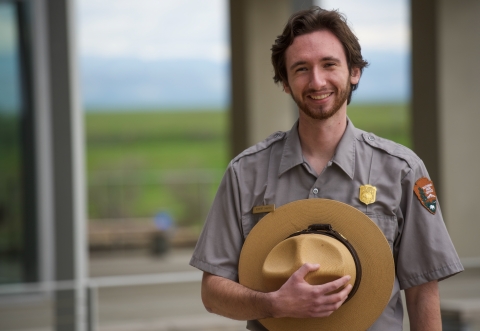 My name is Robert Martin and I grew up in Roseville, CA, a suburb of Sacramento. I found my love for the outdoors growing up through hiking trips with my family and learning about the environment in high school. Proximity to Yosemite was one of the biggest draws for me to UC Merced and I'm finishing up my senior year majoring in Mechanical Engineering. After I graduate I'm doing a summer research internship at the NASA-Glenn Research Center in Cleveland,Ohio then I'm returning to Yosemite to work for Wilderness, which I'm very excited about. In the future I hope to pursue sustainable and green engineering.
What excites me about the Wilderness Education Center is connecting individuals to nature that might not have otherwise. Learning about and experiencing the awe and beauty of the natural world has had a tremendous impact on me and I hope to share that with others. I'm so honored to work with the incredibly passionate staff here at the WEC and thrilled to see what impacts we will have on our campus as well as the Merced community. Stop by the desk if you ever want to chat about music, movies, rock climbing, vernal pools, disc golf, or ultimate frisbee!
Aurora Trejo
UC Merced Wilderness Education Center Ranger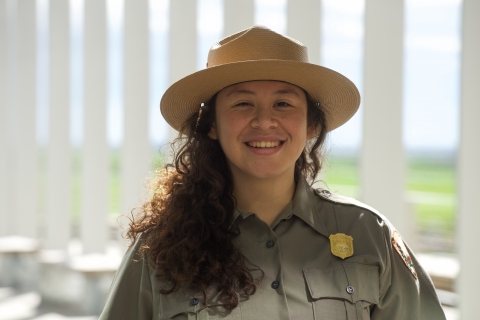 Hello! My name is Aurora Trejo. I am a Wilderness Education Ranger for Yosemite National Park and I study Ecology and Evolutionary Biology at UC Merced. As a college freshman, I could not have imagined saying that and it has only been a dream come true that I get to share Yosemite with you as a college student.
I am originally from Los Angeles, growing up with mostly sport and musical experiences and so I had limited and sparse exposure to wilderness until the start of college. It was through the Yosemite Leadership Program, where I was able to experience backpacking for the first time and meet inspirational mentors. With park visits and meeting many environmental stewards I realized I wanted to make larger contributions in protecting the environment and the life it sustained. This led me to apply for the Yosemite Leadership Program Summer Internship my sophomore year and work during the summer as Restoration and Ecological Restoration Intern. It gave me so much insight, experience, and confidence in how wild places are actively taken care of and that I wanted to continue to be part of the process.
Now as a Wilderness Education Ranger, I continue to advocate for protected natural lands by helping others see how their actions make a difference in ensuring we can enjoy nature and give back to the Yosemite Leadership Program that helped me find my greater purpose in life. My journey towards these experiences never would have been possibility without UC Merced and would not have believed that my journey would have brought me to these experiences. I am so privileged to be serving you all and can't wait to see how you will experience Yosemite!
Rachel Krausert
UC Merced Wilderness Education Center Ranger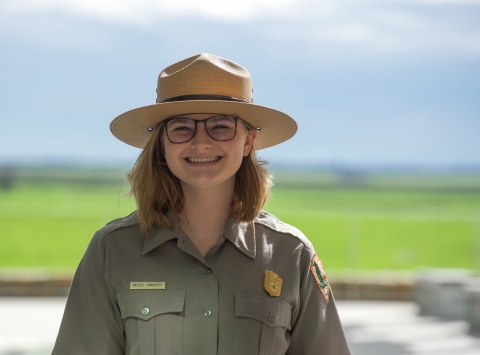 My name is Rachel Krausert, and I'm from Murrieta, which is a small city in Southern California. Growing up I didn't have much of an opportunity to spend a lot of time in nature, and thus wasn't very passionate about it. In high school, I participated in Varsity Speech and Debate and the school band and the closest I got to any outdoor adventures was when I went dirt biking with my family as a kid. In fact, I had never set foot inside National Park until my first year here at UC Merced when I joined the Yosemite Leadership Program (YLP). My involvement with this fantastic program actually led me to find the major I'm pursuing today, Biology with an Emphasis in Ecology and Evolutionary Sciences. I also helped me to discover my love for the mountains, through the Yosemite Leadership Program Summer Internship.
In the summer of 2016 I was lucky enough to be a wilderness intern and I consider it to easily be the best summer of my life. I climbed to the top of snowcapped mountains, rafted down swollen rivers, saw thundering waterfalls, and learned extraordinary things about my surroundings. I watched countless glorious sunrises and sunsets, and slept underneath the full moon and clear night sky. I also got into the best shape I'd ever been in my entire life, and even got a pretty nice tan to top it all off! These programs gave me opportunities I never dreamed of, and continue to do so. Because of these amazing experiences, I became a National Park Service ranger and get to work at the Wilderness Education Center at UC Merced, and have continued to partake in various outdoor recreational activities, striving to push myself and always try new things. Today, I love spending time in the outdoors whether it be hiking, rock climbing, or swimming. I would love to share these experiences, and the knowledge I've learned with you, so stop by the desk and say hello!
Lawrence Rush
UC Merced Wilderness Education Center Ranger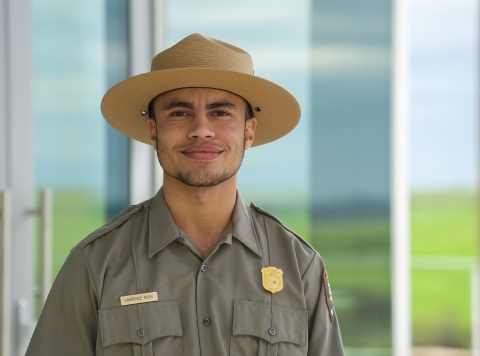 Hey, my name is Lawrence Rush, and I'm from Orange County, California. I grew up with a love of going to the beach and skating through my neighborhood with my friends. My mom helped to facilitate my love of the outdoors by taking me camping in the local state parks. She showed me how much fun there was to be had in a good hike and how much the outdoors can have a positive effect on life. As time went on, I got more involved in sports and exercise in general. I consistently played basketball and joined my high school team. All the while, I fell in love with playing many of the videogames that came out during this time and got quite good!
Moving to UC Merced, I was introduced to several life changing experiences. First of all, I had a whole different landscape to get used too, as the suburbs of Orange County are a far cry from the plains of the central valley. Not only did this mean that I had to get used to all the cows, but I also had to find new ways to occupy my time. After adjusting to my new environment, I found the Yosemite Leadership Program and endeavored on a life changing journey. They showed me the wonder of Yosemite National Park which helped me realize this was definitely something I wanted to be a part of. I luckily was accepted into their summer internship and lived in the park for 12 weeks. After this I was sold, and knew very well that I wanted the experience of being a ranger.
Ever since then, I have been balancing my studies as student and my work as a ranger. When I'm not studying, I make frequent trips to Yosemite to get all the nature I can. When I'm not on the job or hitting the books, you will probably find me using my PlayStation or relaxing with a good book. Regardless of the past or the present, I am always excited to see what life has in store for my future.
 
Nalleli Isordia
UC Merced Wilderness Education Center Ranger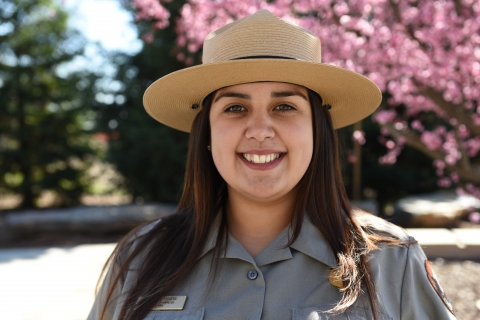 Hello! My name is Nalleli Isordia and I am majoring in Earth Systems Science. I am from a small farming town in the Central Valley called Dos Palos. Growing up, my nature experiences consisted of playing all day long in my big backyard, or long evening walks with my parents along cotton and alfalfa fields. In fact, I never set foot in a national park until my freshman year at UC Merced when I joined the Yosemite Leadership Program. Being involved with the Yosemite Leadership Program was one of the best decisions I made during the beginning of my undergrad career. Thanks to YLP and that first visit to Yosemite National Park I discovered a new passion within me, which was to someday work in Yosemite National Park and hopefully help others discover a passion and love for Yosemite or places like Yosemite too.
In 2015 I applied for the Yosemite Leadership Program Summer Internship, and that summer I was lucky enough to become an interpretation intern for the Wawona Division. I am very thankful for this internship because I used to be a really shy and quiet person, and the internship really pushed me out of my comfort zones since it required me to talk to hundreds of visitors in the visitors' center and also to deliver campfire programs in the Wawona Campground. Because of these amazing experiences I was able to become a ranger for Yosemite National Park and work in the Wilderness Education Center at UC Merced!
Jose Carlos (Charly) Mijares
UC Merced Wilderness Education Center Ranger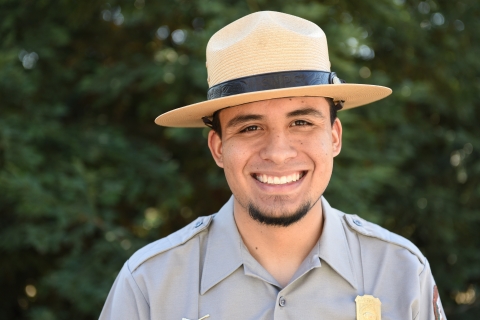 My name is José Carlos Mijares, but most people know me as Charly. I am majoring in Earth System Science. I grew up in the country side of the small farming community of Dos Palos on a ranch. During my high school career, I participated in outdoor education programs such as Adventure Risk Challenge and Naturebridge, where I began to find my calling to work for wilderness areas. Through these programs, I learned about the Yosemite Leadership Program, which I vowed to become a part of once I got into college. During my freshman year at UC Merced, I applied to YLP, and have been involved with it since.
In 2015, I applied to the Yosemite Leadership Program Summer Internship to begin my career as a ranger. I was accepted into the wilderness intern position, where I spent my summer backpacking and issuing permits to visitors. This internship also provided me with the opportunity to work with the horse division in the park. Ever since that summer, I have been working with the horse program, pack mules and working as a ranger on campus as well. On my own time, I enjoy riding and training horses, leatherworking, hiking, backpacking, and swimming. Feel free to stop by at the desk to ask about Yosemite, wilderness areas, or just to say hi!
Jeniffer Amezquita
UC Merced Wilderness Education Center Ranger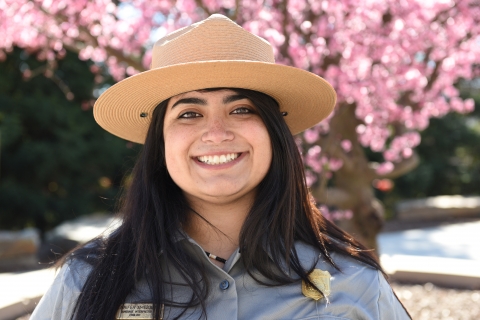 My name is Jeniffer Amezquita, I am an Earth System Science major with a minor in Natural Science Education. In highschool I was apart of the environmental science academy, which is where I first heard about the Yosemite Leadership Program (YLP). My first year at UC Merced I applied for the YLP program and got selected to be apart of it. Being apart of the program has given me opportunities that I probably wouldn't have had otherwise.
In the summer of 2016 I worked and lived in Yosemite as the Native American Historical Intern, I was able to experience what few people get to experience. I got the opportunity to try bouldering for the first time, hike beautiful trails, and backpacked to breathtaking locations. This opportunity then allowed me to work at the Wilderness Education Center at UC Merced as a National Park Service Ranger. Now that I'm working as a Wilderness Education Ranger I am able to teach others about the importance of protecting natural lands as well as share my love of Yosemite and places like it with everyone I meet.