Dear Extended YLP Family,
The 2013 fall semester has started with a bang! YLP students reconnected with an informal BBQ after their various summer internships, research experiences, and wild adventures.  Early this month, the Yosemite Leadership Program received a record of fifty applications from UCM students wanting to join the two-year experience!  The selections were tough, and we're excited to have twenty new participants joining us from many different disciplines, cultures, home towns, and world experiences as the 2013-14 cohort-experience commences!!!  Returning participants in the Social Change Practicum (SCP), the final stage of this intensive program, gave a warm welcome to our new cohort this past Wednesday with cheers and applause!
YLP has hit the ground running with meetings service projects, retreats, and events!  The SCP participants are exploring the role of civic engagement and positive social change as key elements in our community while they volunteer with local organizations and prepare to create their own capstone-legacy projects this year.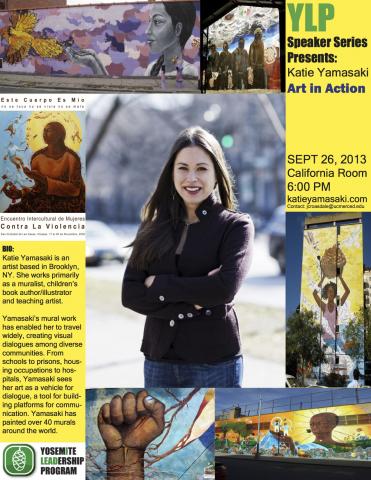 The YLP Speaker Series will kick off it's first event, Art In Action, hosting mural artist, Katie Yamasaki, a passionate advocate for positive social change.  Miss Yamasaki gives voice to people's lifestyles, cultures, and values through her art work and was well received at the TEDx event in Brooklyn.  UC Merced and the surrounding communities are invited to welcome and listen to Katie next Thursday, September 26, at 6pm in the California Room.
At the end of the month, YLP students will also participate in the annual Yosemite Facelift, the largest single volunteer event held by the National Park Service.  All are invited to join in the Facelift September 24-29.  More info can be found at http://www.yosemiteclimbing.org.
Stay posted for monthly highlights of all YLP adventures, successes, and events!
Jacob Croasdale
Yosemite Leadership Coordinator