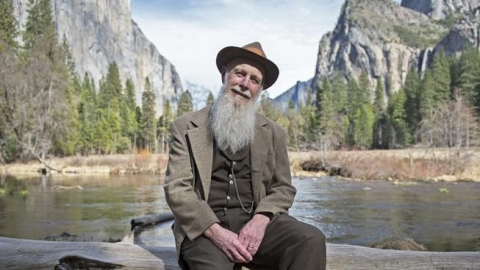 Stetson's performances have brought the inspiration, humor, and conservation message of John Muir to many thousands of people.!
 
Lee's portrayal of John Muir has been presented in Yosemite National Park since 1983, to hundreds of thousands of visitors. Additionally, his Muir presentations have toured worldwide to universities, parks, museums, wilderness and environmental organizations from Washington D.C. to Hawaii, from Japan to Scotland. 
 He is often asked to provide Muir "voice overs" for films on Yosemite, national parks, or John Muir, most recently in Ken Burns' acclaimed PBS series "The National Parks: America's Best Idea." Lee also was featured on interviews as a Muir expert in the first two episodes of that series.
Lee Stetson is also the compiler and editor of a book, The Wild Muir: Twenty-two of John Muir's greatest adventures. For this book, Lee carefully chose death-defying episodes from every stage of Muir's life, prepared short introductions to place each in context, then arranged them chronologically so that the reader can vicariously enjoy Muir's life of adventure.